Fred Setters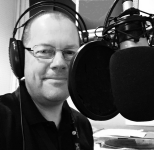 Hi - I'm Fred Seters, and I have the pleasure of presenting to you *TWO* different shows on GLOSS FM!
If you like Synthpop, Electronic and New Romantic music from the 70's and 80's then you'll love Electric City! So from Kraftwerk to the Corgis, Flock of Seagulls to Flash and the Pan, join me every Saturday 1 till 2 on Gloss FM.
Or why not wind your time-machine a bit further back to the 1970's and join me for "I Love the 70s"? A decade that was truly diverse in its music and fashion. From disco funk to punk and glam rock to pop, we'll re-live the music and memories in I Love The Seventies.
Each week we'll replay a classic TV tune, spin a seventies "long song" and round off the programme with a stunning show stopper! Catch me doing that show every Sunday 5-6pm on GLOSS FM!
Thornbury & District

Sunny

High: 14°C | Low: 3°C